Resort and Beach Information...
Beaches - All beaches on the island's east coast are pebble.
Most of beaches have sun beds and umbrellas to rent and a varying selection of water sports ranging from pedalos and canoes to sailing clubs and sailboard hire.
Also very popular is motorboat hire, which gives you excellent access to the wonderful coves hidden along the east coast. There are usually a good selection of tavernas on each beach offering excellent meals and refreshments.
Blue Flag awarded beaches are indicated.

Gouvia
Gouvia has much to offer with many restaurants, some bars and a nightclub, it is suitable for all ages. Only 8 kms from Corfu Town it has a regular bus service. Gouvia houses Corfu's main marina which has excellent facilities of a public swimming pool, 2 restaurants, cafes, cricket pitch and even a croquet field. It is also the base for the Seaplane that flies between Corfu and neighbouring islands.
Gouvia's beach is shingle and compact, at the south end the remains of the ancient Venetian dockyard can be found.

Dassia
Conveniently located just 14kms from Corfu Town. It is a busy, active resort that has many eateries along the main road and a good selection facing the stretch of shingle beach. The standard of water sports on Dassia's shingle beach is excellent.

Ipsos
The 2 km long sand/shingle beach stretches along the roadside and opposite the many facilities Ipsos has to offer. Bars, cafes, supermarkets and a nightclub line the road giving plenty to offer for your holiday. Many local boat trips leave from here to neighbouring beaches and waters sports are excellent.

Barbati
The highlight of Barbati is the 2km long, pebble beach. The deep waters are sparkling clean and a perfect spot to relax or be adventurous on the water sports available. Barbati has the dramatic backdrop of Mt Pantokratora, who sides drop straight into the sea. A good selection of tavernas can be found along the winding road that runs through as well as on the beachfront itself.

Nissaki
Nissaki is an area that covers 4 kilometers and in cooperates 3 beaches and various hillside hamlets.
Coming into Nissaki form Barbati there is the Vinglatsouri area, which sits in the shadow of Mount Pantokratora, Corfu's highest peak. The first beach is Nissaki beach; a picture postcard setting of a tiny beach with pristine waters offering water sports and seaside tavernas ……. an idyllic spot.
Heading north you will pass the occasional supermarket, bakers, village church and a few tavernas set on the main road with dining terraces offering amazing views over the sea and towards Albania.
The 2nd beach on this coastline is Kaminaki, approached by a steep country road and leads onto yet another idyllically Greek beach, with white stones and clean, clear water. Yet more water sports and boat hire is available and 2 local tavernas to dine at.
And finally the beach of Krouzeri (Blue Flag) at the north end of Nissaki, best approached from the road that leads to the Nissaki Beach Hotel. You will find parking at the bottom of the road and a long stretch of pebble beach, 2 good tavernas and water sports.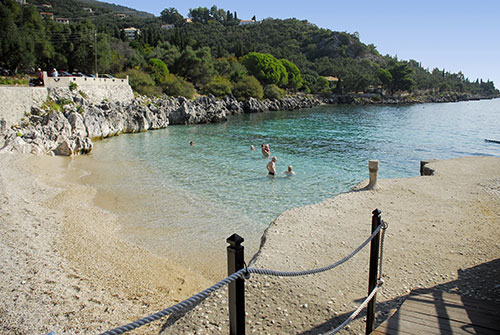 Agni
Beyond Nissaki is the picturesque bay of Agni, well known for its culinary delights and often receiving great reviews in the UK press. There are a few houses to rent dotted on the hillside leading down to the bay. The narrow road winds down through the olive groves, there is a public car park set back from the beach. Each of the tavernas has beachfront locations. The beach itself is pebbly and the water deep and refreshing. A popular destination for boats, both large, small, luxurious or basic, in Agni everyone blends in. All tavernas have their own jetty giving easy access to the beach.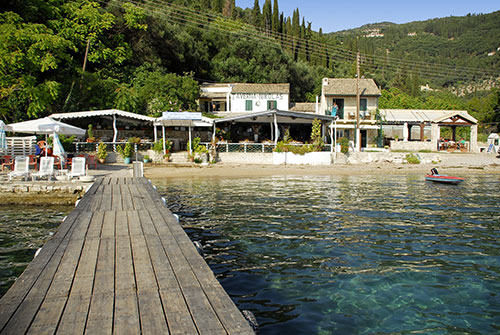 Kalami and Kouloura
Heading further north we reach the double bays of Kalami and Kouloura. The larger of the two is Kalami where the famous White House is located. This is one of the residences of Lawrence Durrell during his time living on Corfu, in fact he wrote Prospero's Cell from Kalami. There is an excellent selection of facilities in Kalami mini markets, one or two bars and plenty of tavernas set on the beachfront.
The smaller and equally beautiful bay of Kouloura has just 1 very good taverna that overlooks the sea.
Kouloura's, horse shoe bay, was is widely recognized as it was used in the opening scene of the James Bond film "For Your Eyes Only'.

Agios Stefanos and Kerassia (Blue Flag)
We have now reached the closest point between Corfu and Albania, approximately 3.2 kilometers separates these neighbours. There is little in the way of beach in Agios Stefanos but an excellent lunch stop at one of the seaside tavernas. The road through Agios Stefanos continues over the headland and ends on the beach at Kerassia, a stretch of pebble coastline with wonderful pristine waters and one family owned taverna.

Avlaki (Blue Flag)
Just before Kassiopi we find the big, deep bay of Avlaki. A barrow stretch of beach borders the quiet road and two tavernas offer good local food. There is a sailing school located on the beach and as this bay often picks up the sea breezes it is a great place to utilize your sailing or sail boarding skills.

Kassiopi
As the road begins to change direction from east to north we find Kassiopi. Once a sleepy fishing village is now a thriving harbour resort still in a traditional setting. Kassiopi has everything to offer including well-stocked supermarkets, bakers, a few bars, craft and souvenirs (the lace making here is legendary), restaurants and tavernas. The small beach can be found on the north side as you exit the village