Resort and Beach Information…



The northern coastline beaches are long and sandy. The terrain in this area is not as hilly, particularly at sea level, so walking from your accommodation to facilities and the beach is easier than in other resorts. There is also a good selection of boat trips leaving form the north coast, in particular giving you a chance to see the neighbouring, smaller, islands of Erikousa, Mathraki and Othoni.
Blue Flag beaches are indicated.

Acharavi and Almyros (Blue Flag)
Acharavi is a family resort situated on the North coast of Corfu. It offers long sandy beaches (some areas of pebbles) with shallow water, suitable for children. In the busy centre of the village the beaches have sun beds and umbrellas for rent and a good selection of sea facing tavernas. Water sports are also available at this busier end of the beach.
The water park, Hydropolis, is just a few minutes outside of Acharavi and a great place to entertain the kids.
Acharavi offers nice wide roads to drive on and ample parking on the 'high' street. Supermarkets, gift and craft shops, cafes, restaurants line the road offering an excellent choice for all the family. There are many walks accessible from Acharavi; the Corfu Trail has a well-marked walk that incorporates both sea and hills.
The East side of Acharavi is known as Almyros and this is where you will find peace and quiet. A long road wanders along the foreshore of Almyros beach, which always has a peaceful spot, even in high season. There are a few tavernas dotted along the beachfront all facing the sea and offering magnificent views.
Facing the North means that Almyros experiences wonderful sea breezes even on the hottest days.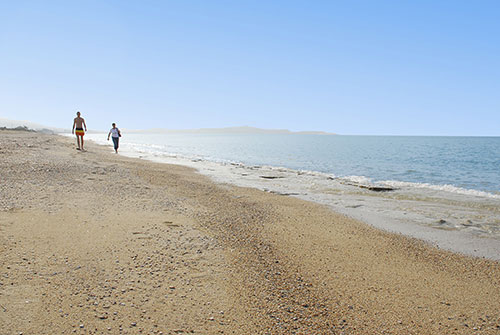 Roda (Blue Flag)
The sandy beach of Roda stretches along the length of the resort. This is another popular destination for families and has a good selection of tavernas, bars, and cafes to please all family members. A lively town that combines tourism and local life.

Sidari
Frequented by most large tour operators and has numerous bars, tavernas along it's busy main road, Sidari also has long stretches of sandy beach. Great spot for teenagers and families wanting a livelier destination.